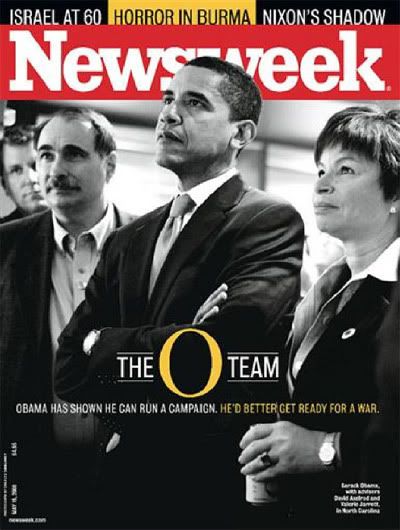 David Axelrod ----- Barack Obama ------ Valerie Jarrett
Update: The following sequence of conversation coming from
NoQuarter.
Conversation 9: November 6, 2008

Blagojevich instructed Spokesman to leak such information, as he desired to communicate dissatisfaction to the Obama campaign about Valerie Jarrett and what he thought they were offering for her appointment

Conversation 10: November 7, 2008

Blagojevich speaks with Advisor A
Blagojevich tells Advisor A he will offer the seat to Jarrett if he is appointed Secretary of Health and Human Services

Conversation 11: November 7, 2008

Blagojevich speaks with Harris and Advisor B, a Washington, DC, consultant
Blagojevich indicates that he will offer Jarrett the Senate seat if he is appointed Secretary of Health and Human Services, but Harris notes that any deal cannot appear to be a quid pro quo
Blagojevich notes his financial situation, and Harris states that "they" are considering it
The Headlines from CNN:
Source: Obama wants Valerie Jarrett to replace him in Senate
From CNN Chief National Correspondent John King
Valerie Jarrett is one of Barack Obama's closest advisers.
(Update: Two Democratic sources told CNN Monday that Obama wants Jarrett to serve in the White House, not the Senate.)

(CNN) — A prominent Democratic source close to Barack Obama confirmed Sunday that Valerie Jarrett is Obama's choice to replace him in the Senate.

Jarrett is a Chicago lawyer and one of Obama's closest advisers. She is also one of the leaders of Obama's transition team.

Rep. Rahm Emanuel, the incoming chief of staff, said Sunday that he had not seen the report from Chicago's WLS-TV that named Jarrett as Obama's top pick, but he praised her as a "valuable ally."

"People should know that Valerie Jarrett is — and people do know — she is a very dear friend of the president-elect and a valuable ally of his, not only prior to running for president, in his Senate life, and just personally for Michelle and Barack," Emanuel said on ABC's "This Week."

The Illinois governor, Rod Blagojevich, will make the final decision on who will be Obama's successor
The Update by CNN was done on the 10th, and it is clear Jarrett was not in the running at that time. But the question has to be asked of Harris, WHO was "they" when "they" were considering giving Blagojevich the postion.
I would think that there are a bunch of "oh sh*t" comments coming from team Obama on this one.
Update:
Rahm Emanuel Reportedly Spoke with Blagojevich About Senate Seat
Chicago -- The firestorm surrounding Governor Blagojevich is putting some heat on Barack Obama's transition team. Fox Chicago News has learned about possible conversations between a top Obama aide and the governor regarding the open senate seat. Craig Wall has the exclusive.
Update:
Axelrod said--counter to Blagojevich--Obama never wanted Valerie Jarrett in the Senate
Looks like Axelrod is trying to put out the
quid pro quo
fire found in the recordings and the Jarrett story published by CNN